Kaye M. Alderman is licensed to practice law in Texas and Idaho. She is a dual Board Certified Family Law and Child Welfare Law attorney dedicated to guiding you toward the most effective approach for your family law issue.
Board Certified by the Texas Board of Legal Specialization in Family Law and Child Welfare Law

More than 25 years of experience with all aspects of family law

Committed to helping you find solutions to complicated family questions
J.D., South Texas College of Law, 1995
B.A., Stephen F. Austin University, Summa Cum Laude 1992
Majors: Speech Communication and Sociology
Minor: Psychology
Texas Board of Legal Specialization: Family Law and Child Welfare Law
State Bar of Texas, 1996
The College of the State Bar of Texas Fellow, 2014
District 2 Grievance Committee of State Bar of Texas, 2013 – present
Texas Bar Foundation Fellow, 2013 – 2014
Angelina County Bar Association President, 2013 – 2014
Chairman of the advisory board for the paralegal curriculum at Angelina College, 2017-2018
Family Law Section of the State Bar of Texas
Computer and Technology Section of the State Bar of Texas
Alternative Dispute Resolution Section of the State Bar of Texas
Texas Academy of Family Law Specialists
Texas Association of Mediators
Texas Family Law Foundation
Collaborative Law Institute of Texas
International Academy of Collaborative Professionals
National Association of Counsel for Children
American Bar Association
Angelina County Bar Association
Leadership Texas Alumnae Association
Angelina County Chamber of Commerce
Women in the Profession State Bar Committee
"I decided to re-enter the academic world and attend law school for the purpose of practicing family law after my youngest son was born. My deceased husband, Bob Alderman, was already a practicing attorney in Lufkin. I attended South Texas College of Law in Houston and commuted, some semesters on a daily basis, from Lufkin to Houston and back. Without Bob's help with school, dance, baseball, soccer and various other activities of our four children, I would not have been able to accomplish my career goal.

Shortly after I became licensed, I opened a solo family law firm in Lufkin, growing from one paralegal (Tiffani) to the three paralegals and one associate attorney currently on our team. We enjoy offering a comprehensive family law practice to select clients. My purpose is to assist each client through what can be the most difficult time of their life, to help them understand the law as it applies to their case, to stay focused and to prioritize the overall best interest of the family and the children.

For more than 25 years, I have enjoyed representing clients in all eleven counties of East Texas! If you have a family law question, let us help you!"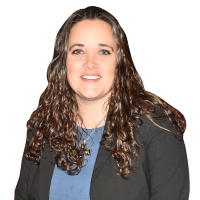 TIFFANI HATCHER
OFFICE MANAGER & PARALEGAL
Tiffani Hatcher has been a paralegal and office manager with the Law Office of Kaye M. Alderman since 1999. She graduated Summa Cum Laude from Stephen F. Austin State University. She is a wife, mother of three, and pre-school teacher at Keltys First Baptist Church.
"Very rarely do people come into our office because something good has happened. We assist our clients in some of the most difficult times in their lives. I see my work not just as a job, but as a mission to help others. In keeping my priorities of God, family, then office, I am better equipped and grounded to help clients navigate when they find themselves in the storms of life and the confusion that can be family law. I want our clients to feel like they have been strongly represented in all aspects of their cases but to also know, that at the end of their legal journey, they are going to be just fine and they have a true advocate."
Mrs. Alderman represented me in a very complex, difficult divorce case. This case involved a defense of my prenuptial agreement that eventually went to a jury trial. During the entire process she displayed professionalism and knowledge of the law and the processes involved. Because of the circumstances, my case was very demeaning and emotional. She was aggressive in seeking the exact results, that led to a successful trial outcome. Mrs. Alderman and her entire staff treated me as they would a family member, with respect and concern for my situation. All calls or inquiries were returned in a timely manner. Hopefully I will never need this type of legal assistance again, but I would not hesitate or second guess to refer Kaye Alderman to any of my friends or family, should they need professional counsel.
I had an extremely difficult child custody case that has been through 3 states and used multiple attorneys. I had a local attorney back out of the case when it became too complicated. The attorney that backed out explained to me they didn't have the time or staff needed to do the things I needed done and recommended Kaye Alderman. Kaye listened to me explain the situation and agreed to take the case. It involved multiple depositions and a week long jury trial. Kaye and her staff weren't just there to process court papers for me and let the judge make a decision. They did extensive research on my child's mother tracking down numerous court documents from previous custody battles she had for other children. Kaye and her staff tracked down court papers from the state attorney general concerning my child's mother's past issues with failing to pay child support. I didn't even know there were past child support payment issues. They deposed ex-husbands, interviewed teachers, counselors, etc. Kaye and her staff developed a coarse of action to present the evidence and the discrepancies in the opposing counsels' claims. Kaye and her staff were beyond thorough. Opposing counsels' case literally fell apart during the week long jury trial. After listening to the details of the case the 12 person jury awarded us everything we asked for including sole custody of my child.
I would highly recommend Kaye Alderman. She is a caring, honest, attorney that will fight for your rights and do the difficult research needed to present the most effective case possible. Kaye and her staff are highly competent professionals. They genuinely cared about my family and our well being. Mrs Alderman still checks in from time to time for updates on my family and children via email 5 years after the case. She is hands down the best attorney I have ever worked with.
Mrs. Alderman has been my attorney for the past eight years. She is very professional in every respect, and she is very knowledgeable in the area of divorce and the distribution of property. She is also excellent in handling child custody matters and alimony payments. Mrs. Alderman was always prepared when we went to court and very effective in presenting my case. Due to her ability as a lawyer, the judge ruled in my favor and the court was persuaded to award to me the things that were legally mine. I highly recommend Mrs. Alderman as a very skilled and competent attorney.
My husband and I hired Kaye Alderman to fight for custody of a child that we raised from 5 months old until 4 years old. We had no blood relation to this child. I was hired by her single father to babysit her at 5 months old, her mother was in and out of prison, and by 2 years old I was no longer getting paid as a babysitter, yet we were raising her. From time to time the father would take the baby for a little while, but she always came back to us. Two different times the father took the baby, when he returned her, it was discovered that she had a different STD each time. Kaye was able to prove that we had standing in this case, and as of right now we have Temporary Sole Custody of this child. We have no doubt that is because of Kaye and her staff's attention, hard work, long hours and dedication that we were able to obtain custody of this child and keep her safe from these things happening to her again. We have and will continue to refer people to Kaye for her services.